Brad Turner of 3EYES. Photo: Joe del Tufo




A bit of rain couldn't slow things down at the
Shady Grove Music Fest
on Saturday -- rather than head for the hills (and their dry cars), partiers barely blinked an eye. After all, bailing out would mean missing out on some of the day's most anticipated bands,
New Sweden
and
Bullbuckers
, who rounded out the festival's roster of ten main stage bands, acoustic performances on the Moonlight stage and live graffiti art by Brad Turner of 3EYES.
The early part of the day featured
The Joe Trainor Trio
,
Sharon Sable and E. Shawn Qaissuanee
,
Smoke Signals
and
Frequency Bender
. As the afternoon warmed up under cloudy skies (nice, actually -- the grove is shady, but without the full summer sun in the sky, the day was a refreshing change from the recent heat waves), local youth
Local Chaos
took the stage to a supportive crowd as they honed their skills with songs by Motley Crue and the White Stripes, among others.
I especially enjoyed Newark's
Little Invisibles
, fronted by the lovely Dina Degnars on piano and vocals. Shades of Within Temptation, but singularly original. And, with an audience-participation hula hoop interlude, a lot of fun, too.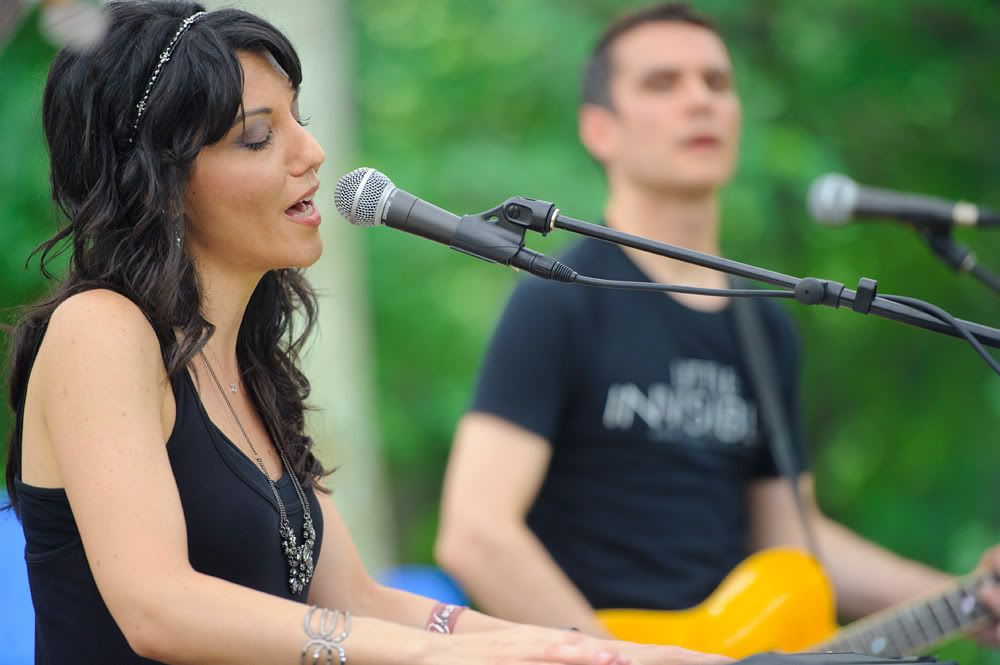 Little Invisibles. Photo: Joe del Tufo
A little drizzle started to fall during
Deadbeatz, Inc
's politically charged set, and by the time
Villains Like You
took the stage, the rain was really coming down -- and the crowd was starting to dance. Nothing like an outdoor music festival to get your body moving it the rain, right?
And through it all, 3EYES created a piece of his distinctive, hand-and-stencil graffiti art, while DJ Zip kept the beat going between bands.
You'll have to wait until next year to hang at another
Shady
Grove
Music Fest, but the Arden Concert Gild offers live original music throughout the year -- like them of
Facebook
to keep up with the schedule.