The Art Loop came smack in the middle of the Fringe Wilmington festivities on Friday, making it almost more art and weirdness than we could handle -- as if! We took a detour from the downtown activities to check out the Talleyville Frame Shoppe & Gallery's "Spooktacular!" Halloween Art Show featuring spooky art and live music. It was well worth it -- this show wound up being one of the highlights of the weekend.
Coffin Fly at Talleyville Frame Shoppe & Gallery. Photo: Holly Quinn
Kristen Margiotta
's distinctive paintings of big-eyed characters and horror icons such as the Mad Hatter and, my favorite -- Vincent Price holding his own head on a platter;
Ric Frane
's paintings of horror movie monsters paired with pinups, including the devilish "Self Portrait with Mate;" and Pinup model and glitter artist
Asia "The Glitteress" DeVinyl
's tryptich of glittery, glamorous and creepy pieces;
Wendy Mitchell
's wicked mixed-media art;
Stephen Blickenstaff
's colorful, comic-style paintings; and
Kevin Herdeman
's mixed-media monster art that not only puts the frame into consideration, it completely incorporates it.
In addition to the art on the walls (plus all the other cool art, cards and jewelry the shop carries regularly) the opening featured
Coffin Fly
, a trashabilly trio out of the University of Delaware. After a minor delay, they kicked into their set, and I'm sure glad I caught it! Ghoulish lyrics and rockabilly beats complete with stand-up bass and washboard. For those who follow Delaware's underground music scene, this band is one to watch.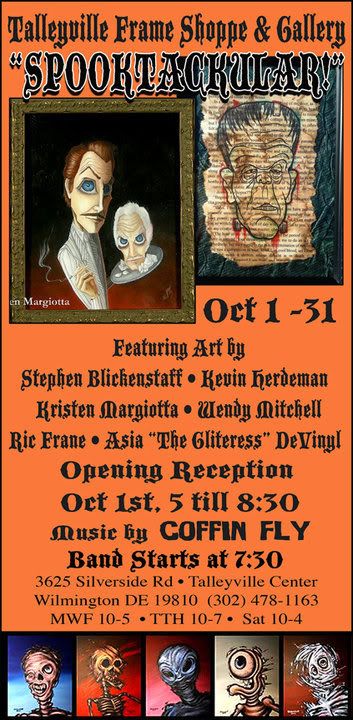 "Spooktacular" runs through October 28. The show is brought to you by the minds behind this year's multi-artist
Zombie A Go-Go Rock 'N Roll Art Show
-- we hear that another ZAGG is planned for late winter/early spring '11, so keep an eye out.
Talleyville Frame Shoppe & Gallery
3625 Silverside Rd.
Talleyville Center