Fashion and food at Bite of The Fringe. Photo: Jessica Graae
Performance, fashion, film and extreme cuisine came together for a preview of Fringe Wilmington's festival of the city's boldest and most daring art, coming September
five-day
festival of the city's boldest and most daring art, coming September
29th to October 3rd
.
A Bite of the Fringe took over an open space at the Shipyard Shops -- you couldn't miss it, with the fire-twirling performance out front around 7 pm, when we arrived to take in the scene. A line of chef-manned tables made an aisle of fringy food for sampling. Lots of food. The $20 ticket price was more than worth the "free" food alone: Chicken and fish from
Paradise Palms
; fresh veggies and cheese and cold, fruity summer soup from
Fresh Thymes

Cafe
; Latin meatballs from
El Diablo

Burritos
; lobster spanikopita from
Walter's
; carpaccio, paper-thin raw beef topped with capers, sea salt and avocados from
Union City Grille
; duck confit corn dogs with a spicy maple sauce and lemoncello cocktails from
Chelsea Tavern
; cinnamon curry chicken legs with orange raspberry chipotle glaze and peanut butter pound cake with
chick-o-stick
infused whipped cream from
Copper
(opening soon at the
coIN loft
); and a huge array of whimsical (and creepy!) cupcakes from newcomers
Cupcake Kaboom
! The tasting was easy -- but this was a competition, and choosing the best (and FRINGYest) cuisine was challenging. The winner? Chelsea Taverns' inarguably bizarre gourmet corn dogs
,

which are now available on the specials menu of the restaurant

.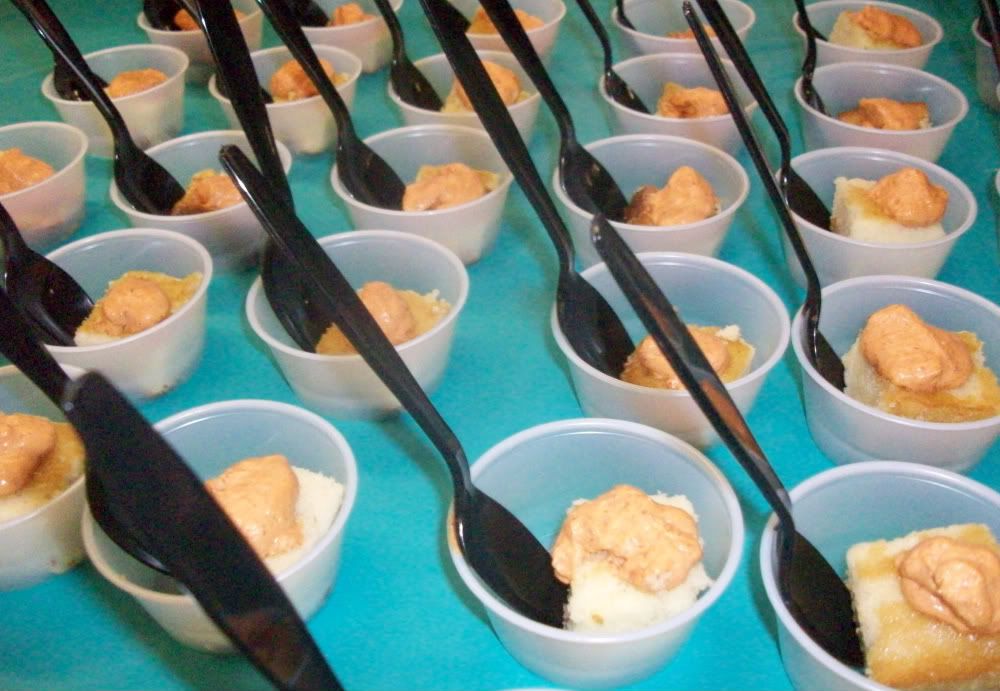 Cakes from Copper. Photo: Jessica Graae
No time to linger over cocktails and cupcakes -- the show got rolling with the trailer for "In 200 Words or Less," a film about looking for love online (and in Delaware) by Mauro Giuffrida, which will be playing at
Theatre N
during the festival. Next up, an engaging live performance by Lary Moten, written by Ed Shockley. Going solo for the night, Moten transported viewers back to the day after the Montgomery Bus Boycott started, in a short piece highlighting the indignities, hope and dark humor.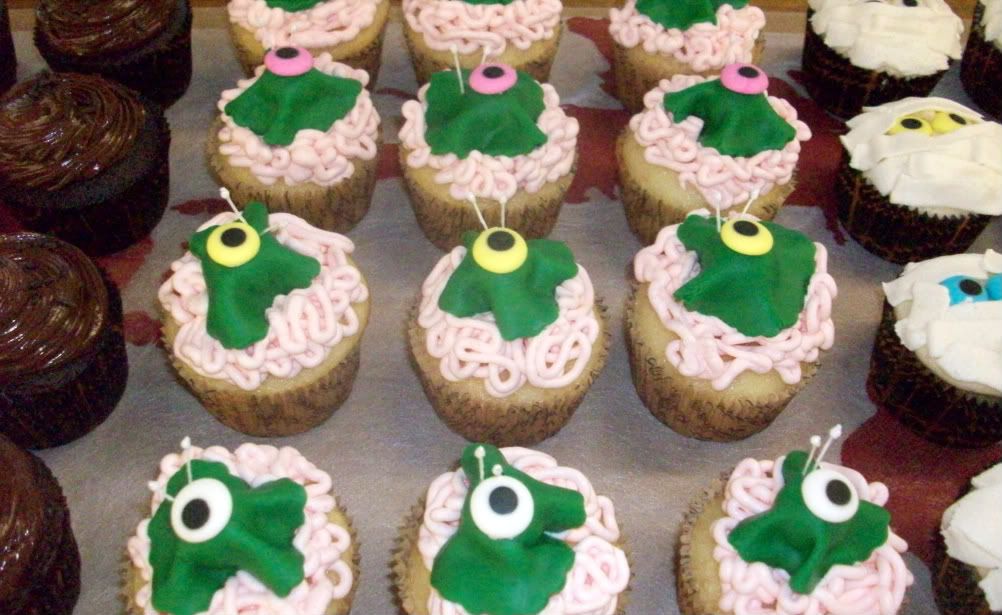 Cakes by Cupcake Kaboom! Photo: Jessica Graae
Last year's 24-hour Extreme Film Festival will be a little different this year: filmmakers will have
48 hours
to complete their submissions from script to post-production

, but,
like last year, will be assigned a mystery prop, location, line of dialog and genre. We screened one of last year's winning entries, the crowd-pleasing "Predators in Pink" (see all of last year's winners
here
). The short horror-comedy, like all of last year's entries, featured the fuschia feather boas that decorated the room.
Eddy Seger took the stage for a snippet of his one-man storytelling show, recounting his nearly two-month solo adventure canoeing the Estella Dawn the entire length of the Mississippi River.
City Theater Company
, Delaware's "Off-Off Broadway" theater, offered the short two-person
scripted piece
"From A to Z" by George Tietze, featuring a fighting couple attempting to communicate with the aid of actor improv games.

The fashion show finale. Winning piece, "My Fringy Lady," on the far left. Photo: Holly Quinn
The night was capped off with the extreme fashion show everyone had been waiting for, and it didn't disappoint. Artists created fashion with everything from recycled
Juxtapoz
magazines to balloons (and more than a little duct tape!). Models wearing the creations of artists including Joe Sielski, Sara Crawford (
Anara Originals
), Jeni Barton, David Sanchez (
Spaceboy Clothing
), Mike Dodson, Reverend Eleven and Queen B, and
JulieAnne
Cross strutted the room one at a time, each a work of fringy-funky art. In the end, the winner of the night's fashion show was Joe Sielski, with his "My Fringy Lady" piece, inspired by "My Fair Lady" and featuring a wild, towering hat topped in large paper lanterns, accessorized with a Goodwill jacket and a gauzy skirt. We loved all of the fashions, and hope to see this event return next year!